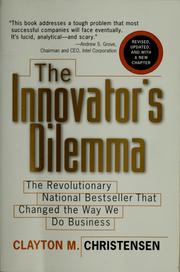 The innovator's dilemma by Clayton M. Christensen
Published by HarperBusiness
WorldCat • Read Online • LibraryThing • Google Books • BookFinder
This summer I took time to re-read an oft-overlooked volume that I believe to be the essential to anyone working in marketing and innovation. In this review, I'll provide a few examples of why this book needs more attention, particularly here in Canada where we definitely need to up our game in marketing of innovation and technology.
Clayton Christensen, as Associate Professor of Business Administration at Harvard Business School, is a leading academic researcher on innovation. Yet, he still manages to provide practical and pragmatic strategies that real companies can use. And, most importantly, his theoretical groundwork is based on extensive, data intensive research over longer period of time with real companies and markets going through disruptive innovation.
The latter term is often thrown around lightly in technology company circles. A Disruptive technology (or innovation) typically has worse product performance in mainstream markets while having key features that interest fringe and merging markets. By contrast, sustaining technologies provide improved product performance (and often price) in mainstream markets.
The book covers real markets, including the various generations of disk drives starting with 14″ drives in the 1970's to today's 2.5″ (and smaller) drives. By studying hundreds of companies that emerged, thrived and failed over a 25 year period, some clear patterns emerge. Further examples across a broad range of markets, include he microprocessor market, the transition from cable diggers to hydraulic "backhoes", accounting software and even the transition of industrial motor controllers from mechanical to electronic programmable models.
The key message of the book is that the playbook for normal ("sustaining") technology innovation must be thrown away for disruptive technologies. Disruptive technologies break traditional rules in many, often counter-intuitive ways:
Financial – typically disruptive technologies are more expensive and have lower performance than existing products. This effect causes financial managers to kill many such innovations.
Marketing: the normal rule to "listen to your customers" must be thrown away – instead many educated guesses with repeated failures are the only path forward.
Organization: given the ability of normal strategies to reject disruptive innovations, such practices as heavyweight teams (which silo the team with more autonomy) and even spin-outs are the order of the day.
Entrepreneurial writings, not to mention my own experience, encourage us to celebrate failure. Beyond the power of learning by trial and error, The Innovator's Dilemma, for the first time, provides an analytical framework as to why such failure is so critical in new markets.
One area where the book could provide more guidance is that of differentiating disruptive from sustaining technologies. Such discrimination is absolutely critical to ensure the right strategic approach to the new technology is adopted. Generally easy with the benefit of hindsight, such determination can be very tricky, and error prone, when first confronted with such new technologies.
This is a book that anyone working with products in fast moving markets needs to re-read regularly. It surprises me that, 15 years after publication, how few product marketers and senior executives appear to have benefited from the deep wisdom Christensen imparts.