In today's mail I received a tantalizing offer from Bell Canada Long Distance. It promised the ability to "Call the world without limits" by delivering "Unlimited World Long Distance Plan $29.95/mo." With calls to over 50 countries plus Canada and USA included, on the face of it, that's a pretty attractive offer.
But, I've learned that, when dealing with the telecoms industry whether landline or wireless, it pays to read the fine print. And, sure enough, in very small type at that bottom it says "excludes calls to mobile phones and wireless devices." Sadly, when I call overseas, where mobile penetration is generally at or even above 100 mobiles for 100 population, over 95% of my calls are to mobile phones. So, far from being unlimited, this plan is really a bit of a "bait and switch" which might well increase my calling costs. In the monthly billing cycle, the arrival of the first bill post sign up would almost certainly make any customer's blood boil. At a macro level, I'm really curious as to what such deceptive marketing campaigns say about customer relations and basic trust in the 21st century?
Also this week, Canadian Minister of Industry, Jim Prentice, dialled up his earlier suggestion to mobile operators Bell and Telus to reconsider their ill-conceived plan to charge customers for incoming SMS text messages, including SPAM. Minister Prentice, after meeting Bell CEO George Cope, publicly raised the spectre of increased wireless regulation in Canada as a way to increase pressure for the pair to see common sense. Clearly, for companies that act in the public interest, using the police-like powers of regulation to curb those who stray from this idea must strike a delicate balance. Again, is this a trust issue? Are Bell and Telus exhibiting corporate greed or simply strategic incompetence?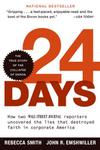 Speaking of trust, a week ago a good friend lent me a fascinating book called 24 Days, by Rebecca Smith and John R. Emshwiller, Harper Collins, 2003. The co-authors, two Wall Street Journal Reporters, lay out a factual and totally rivetting chronicle of how the once "great" company called Enron went from being on top of the world into a death spiral in little more than three weeks. To quote the authors, "so much of Enron's energies were devoted … to exploiting accounting rules to make profits out of thin air. So much brainpower went into temporary gains rather than into building projects with lasting value. By any means, was the Enron way. … Service to its customers and clients, didn't enter into it." Having once run a public company where we took our fiduciary and regulatory duties to our shareholders and the public markets seriously, the sheer magnitude of the greedy cleverness of the malfeasance at Enron boggles the mind. Again, why have the fundamental ethical standards of human trust in the corporate world sunk so low? While it is easy to build a house of cards, without long term trust, I firmly believe it is impossible to build any entity (corporate or otherwise) with lasting, long term value.

Can We Trust Their Claims of Open?
Trust issues aren't confined to the US and Canada. In Germany, T-Mobile has been advertising their new iPhone mobile data plans as "open internet access with unlimited data" ("Freier Internetzugang mit unbegrenzter Datenflatrate") For the details, see a fascinating post from TMCnet. Indeed, customers were finding to their dismay that this open internet access specifically disallowed such basic mobile web services as VoIP, IM, and VPN. Furthermore, the supposedly unlimited data plan was actually capped. This is almost unbelievable, especially in Germany which, being in the European Union, generally benefits from far superior mobile regulation than we enjoy in US and Canada. In a David versus Goliath situation, sipgate, a small VoIP application provider for Apple iPhone, stood up for consumers and has won a preliminary court injunction against mighty T-Mobile. In this instance, there can be no doubt that t-Mobile is just plain wrong. Once again, we wonder how clearly deceptive advertising affects trust between T-Mobile and its customers?
For once, the lessons for companies are simple, yet so often overlooked. In this age of call centres, web self service and mobile nomadism, opportunities for developing personal relationships between companies and customers are on decline. As people feel increasingly distant from the companies that provide them goods and services, the importance of trust in business dealings goes up. I would argue that because trust is built over the long term, it needs to become a vital part of every company's brand equity. Although economists have yet to devise specific measurements, it is clear that a lack of trust can kill a multi-billion dollar brand very quickly and in such a way as to make recovery extremely difficult and costly, if not impossible.