In an ironic turn of events, the same day as almost 150 very senior business, educational and municipal leaders in Waterloo Region rallied around dramatically enhanced arts and culture investment at the Task Force on Creative Enterprise, Stephen Harper was quoted by the Toronto Star as saying "that ordinary Canadians do not support nor care about art or artists in this country."
Not surprisingly for a country populated by extraordinary people, the response has been swift and and widespread. See the rapidly growing Facebook group Ordinary Canadians DO SUPPORT the Arts, Mr. Harper. You are dead wrong.
It is fitting that our first, of many, guest posts, which follows directly, is a view from the front lines of theatre penned by David Craig,  Artistic Director of Roseneath Theatre, Roseneath is a fabulous and, typical of Canadian arts organizations, undercapitalized, gem providing professional theatre for young audiences. I am volunteer Treasurer and Board member of Roseneath Theatre.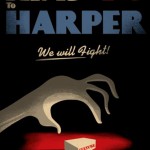 Credit: Diana Hamblyn, Facebook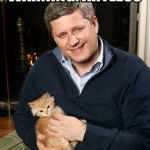 Credit: Garnet Hertz (Facebook)