Last weekend, I attended Asphalt Jungle Shorts IV, a truly innovative and engaging theatre experience — one that you definitely shouldn't miss. And, even better, AJS is performed right here in Waterloo Region. Downtown Kitchener, having weathered a down cycle and now in a major resurgence, has evolved an urban, hip, almost Manhattanesque kind of feel.
Multitalented Artistic Director Paddy Gillard-Bentley's innovative use of site specific theatre builds on our unique urban environment in bold new ways. In her previous three installments, she allowed us to experience drama in such real world settings as a parking garage, a bar, City Hall, a store window, back alley, small parks and even a book store. Without giving too much away, I can say that Paddy has pulled out all the stops and presented a play in the most unlikely and crazy place I've ever seen. I'm sworn to secrecy, so you will have to attend to find out where.
Couple the intrigue of great locations with a globally selected talent pool and you'll start to see what the AJS magic is all about. Although primarily directed and acted by best of the best from our local theatre scene, the plays are truly a reflection of the diversity of cyberspace, coming from Australia, Ireland, Israel, Mexico, Russia, United Kingdom (London), United States (Arkansas, California, Georgia, New York, Oregon, Washington,) and of course a few from closer to home in Canada. As the audience navigates through 13 plays in multiple locations, many boundaries are blurred. Is that a homeless person or and actor? Is the woman next to me an audience member or an actor? Is that a regular store patron, or …?
AJS rounds out other regional, multi-site arts events like the Open Ears Festival and CAFKA which, in turn, nicely complements a burgeoning conventional arts scene, which tend to reside inside buildings like galleries, theatres, concert halls and museums. Collectively, these three festivals have significantly enriched our Third Place. The Waterloo area is renowned globally as an innovative community with several world class universities, a top technology cluster and newer world class think tanks such as Perimeter Institute and CIGI. It's also pretty clear to me that, as our innovation capacity grows, so must the artistic capital grow hand in hand. Asphalt Jungle Shorts is a true gem in this growing artistic footprint for our region.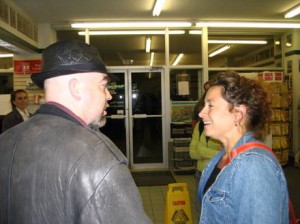 A point of disclosure, I'm a founding Board Member of Flush Ink Performing Arts which will propel Artistic Director Paddy Gillard's already considerable achievements into a great new "Fringe Festival" called "Unhinged" and, in which should be no surprise, builds on her innovative delivery of site specific theatre. Like technology startups, the arts thrives and survives only on investment. I have been a sponsor of these activities from the beginning, both personally, and through Verdexus. I'm convinced that when you are initiated into AJS, you will want to be as well.
But, you'd better hurry as only four days of the run remain – 28, 29, 30 & 31 May, 2008. Reserve quickly at tickets@flushink.net or 1(519) 957 2228. More details at the Flush Ink Performing Arts website.