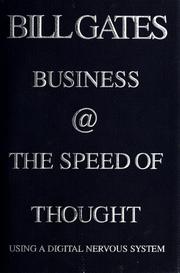 Business @ the Speed of Thought by Bill Gates
Published by Warner Books
WorldCat • Read Online • LibraryThing • Google Books • BookFinder
The late 1990's was a heady time for visionaries. Before the Dot Com Meltdown, it seems that every senior executive, myself included, spent lots of time prognasticating on how technology was transforming the world. From the perspective of the twenty-first century and the passage of over a decade, it's interesting to read one of these. In the book, Bill Gates provides a lucid, and surprisingly impartial (ie. non-Microsoft) view about how business is being transformed and can benefit from what he calls a digital nervous system.
By providing a high level roadmap and vision for corporate CIOs, Bill is really defining a multi-year plan for digital transformation. While the details and trends have moved on (ie. no mention of cloud computing here), the roadmap is surprisingly au courant. So much so, in fact, that I'd encourage anyone aspiring to be an IT visionary today to go back and read this book (or similar one from other software visionary CEOs). It also has to be remembered that IT was often viewed as a cost centre (ie. necessary evil) reporting to the CFO, and was not fully seen as the enabler of competitive advantage and modeern business operations.
Perhaps the biggest lesson in all of this is that visionaries can't predict the actual timing of the trends that they espouse. Market adoption rates are affected by underlying technologies (broadband), human behaviour and sometimes what seems like random forces. Anyone working with disurptive technogies needs to keep this firmly in mind.