A little over 4 months ago we first wrote about an astonishing social enterprise, Jonathan Howard (see photo) and his Run The Dream (RTD).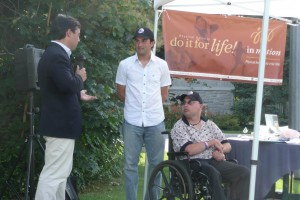 Jonathan and Terry with Michael Chong, MP
To refresh your memory, take a look at our 22 March, 2008 post by clicking here: With amazing youthful enthusiasm, having Just turned 25 today, Jonathan Howard ran into Elora to a welcome by a Michael Chong, MP, Mayor Joanne Ross-Zuj, a number of parents who live daily with Autism Spectrum Disorders (ASD) and a good contingent of local supporters. It goes without saying people were inspired and he was very warmly greeted.
It's really interesting how things that start slowly eventually snowball. There are always challenges and false starts in any truly entrepreneurial enterprise. The snowballing of viral propagation is famous in the world of web startups. Jonathan has witnessed a similar effect with Run The Dream. One shining example of that is Terry Robinson (see photo). Terry, a co-worker at Ontario Public Service and an accomplished two-time Para-Olympian (Seoul and Barcelona), was so inspired by Jonathan's social vision to commit to a leave of absence from his job to accompany Jonathan by wheelchair from Ottawa to Winnipeg. That's a 3 month and 3000 kms of dedicated trek. What a team they make as they average a marathon a day, day in, day out.
Jonathan and Terry should be an inspiration to us all. RTD is managed by a core team of about a dozen (effectively full time) volunteers, augmented by literally hundreds of local grassroots volunteers, with Jonathan being the notional CEO (or should I say, Chief Running Officer?). As a startup social enterprise, RTD has an impressive year one business plan. The two main CSFs:
to raise awareness of ASD, and
to raise $2.5 million in donations
are ambitious goals for any startup. How many technology startups come close to that in year one?
When we filter investment prospects at Verdexus, we like to think that 80% of the investment decision is centred around the team. As a result, we spend much time getting the measure of founding team entrepreneurs. For a social enterprise, the same is true, in spades. With a vision and an execution track record that Jonathan and Run The Dream has so far, have you any doubt that investors will back Jonathan and his team?
And, guess what? You can to. Help Jonathan and his team meet their goal by donating online at the Run The Dream website.