Almost four and a half years ago, I penned what some called the obituary of Blackberry (see "How You Gonna Keep 'Em Down on the Farm"). My intentions in writing that missive were, in fact, quite the opposite.  Back in 2008, a year after the first iPhone, Blackberry didn't appear to be heeding the threat of major market disruption, let alone making a response. I thought that writing such a post might incite some action. Sadly, while I got loads of reaction from all over the world, the one missing piece was that this was singularly not registering inside the "Faraday Cage" of RIM headquarters at Philip and Columbia in Waterloo.
For many years, to continuously hone my expertise as an investor and participant in the next generation mobile ecosystem at VERDEXUS, I have maintained a "production" device and a "testing" device which allows me to sample the greatest number of new applications and platforms in my daily business and personal life. At the time of the 2008 blog, I switched from Blackberry as production device and iPhone as testing device. At that time, I promoted iPhone to production and introduced an early Android device into the testing status.
The four and one-half years since then, representing four to five mobile device generations at the rapid pace in which these are deployed, has seen a lot of innovation and change in the mobile universe. The first production version of Android occurred one month after the aforementioned post. Today,  over nine releases later, Android 4.2, known as Jelly Bean, is a mature and polished mobile platform.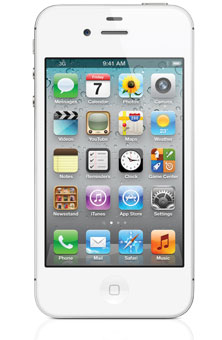 Mobile user experience has, as it were, come up from the Farm and we are now definitely in Paree. It's hard to imagine how things could get much better, yet an even more exciting future in mobile will undoubtedly unfold. The pace of change has been almost mind boggling, with Android appearing to move almost twice as fast as iOS, the more proprietary Apple platform running iPhone and iPad.
As a young platform, Android has long shown promise. Being an open source operating system primarily developed by Google, but customized by various device manufacturers, not to mention the ever-meddling carriers, has been both a blessing and a curse. Initially, Android seemed "rougher around the edges" and more techie in feel than the uber-polished and legendary iPhone experience, which is produced end to end by Apple.
Conversely, the limitations of the Apple closed ecosystem approach are starting overtake the advantages. There are numerous examples. If you simply want to plug in your device via USB and load music and other files, Android shines by bypassing the need to go through iTunes. While iTunes has its advantages, many of us simply want more control over our cross-device media file deployments. Another even more telling example is the recent debacle in which Apple turfed the tried and true Google Maps application in favour of a badly implemented and incomplete version of their own. This is but a single example of where Apple's legendary quest for control is wearing thin.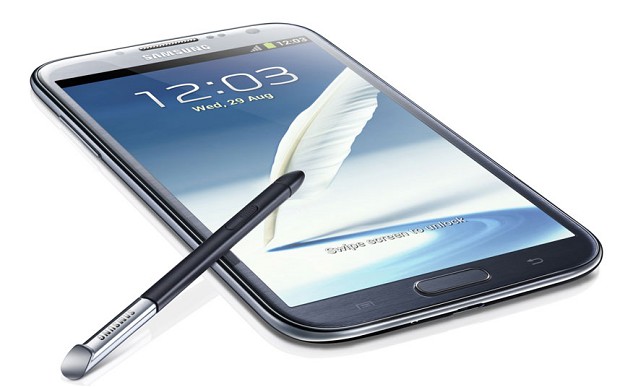 While giving more control to mobile application developers has its challenges, it is clear that no one company, no matter how sainted, can determine, let alone sully serve, the desires and needs of the entire mobile universe.
It is a combination of this clear advantage, coupled with the incredible progress inAndroid and its handset manufacturers, that has led me to promote my newest device to production and render the formerly top-billed iPhone second tier status of my test device.
For me that device is the Samsung Galaxy Note 2, which with its 5.5″ screen is sometimes dubbed a "phablet" (ie. a combination of  phone and tablet). Essentially a super-sized Galaxy S3, this phone is nimble, fast in computational processing and with speedy network connectivity. I first saw Europeans use it a few months ago, a cool and capable device, but perhaps an acquired taste for some
Perhaps it is simply my poor vision, but the large screen size is versatile and a joy to work with for all sorts of browsing, content and documents. The S Pen stylus, even for those who don't want to do handwriting or line drawings, transforms the mobile browsing experience by removing the navigation problems on many sites with menus which are small on mobile screens. Samsung has even developed an SDK around the S Pen which could create a whole new application ecosystem, assuming this next generation stylus gains sufficient market traction.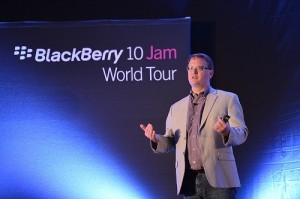 Is my recent promotion of Android to top device spot the end of my quest for mobile perfection? Absolutely not! In fact, only one week ago, I personally promised my colleague Alec Saunders, the ubitquitous and transformational new VP of Developer Relations for Research In Motion, that I will definitely  give the new Blackberry BB10 devices a serious try. And, not just because "Devs, Blackberrry Is Going to Keep on Loving You". I truly do like much of what I'm hearing about their capabilities.
Stay tuned – the mobile world is a fascinating and ever changing one.